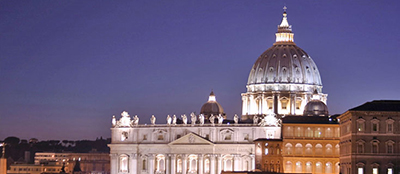 The Vatican Walls Bed & Breakfast lies in the heart of Rome less than 300 meters away from St. Peter's Basilica. It is located in a beautiful, calm and quiet oasis in the very center of the city.
Opened in 2000 and recently renovated, guests are greeted in a friendly, comfortable and cozy atmosphere.
The apartment, managed with care and well furnished, offers two bright and spacious double rooms with a private bathroom in each room, overlooking a large balcony / terrace where you can relax after a long day of walking around the Eternal City or enjoy a hearty breakfast.
Available for our distinguished guests: relaxation throughout the day, coffee, tea, herbal teas.
You will receive your keys and you can come and go as you please without any time restrictions.
Located in the very center of Rome and away from the traffic chaos in a calm and quiet neighborhood, the Vatican Walls Bed and Breaksfast is very close to all major touristic sights. Moreover, it is well served by the local public transport.